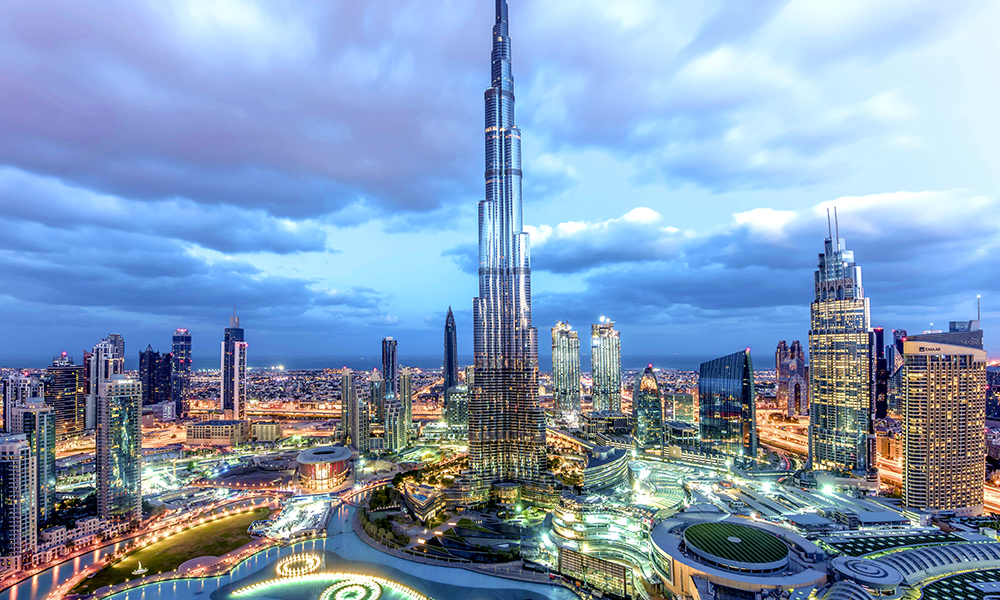 As soon as you arrive in Dubai , you have to switch; Dubai is not a city like you are used to from European cities. It is grander, impressive and you may feel lost for a moment. No worries , the longer you are there the more you fall in love with this city. And with the tips below you can make sure you feel at home even faster.
Dubai at a glance
Where once there was no more than a desert, a metropolis has literally sprung up within a few decades. In 2017 Dubai is characterized by high towers, which are inhabited by inhabitants from all over the world. In fact; 80% are immigrants and no fewer than 200 nationalities live together without problems! We can learn something from that in Europe…
Nice: in Dubai the sun almost always shines, it rarely rains and it is always warm. Truly a desert climate! This means that it can get very hot in summer. The busiest period in the metropolis is therefore from October to March. Are you staying in one of the other months? Plenty of water parks, covered theme parks and shopping malls where you can cool down.
The city divided into districts
Although Dubai does not officially have any districts or districts, it is useful to split the city into parts for yourself. This way you know better what is where and what you can and cannot easily combine:
Downtown Dubai is the Dubai that many people know from the pictures in travel guides. Here you will find the most famous attractions, such as the Dubai Mall and the Burj Khalifa . Later in this article you will read everything about these and other sights that you should not miss.
Palm Jumeirah is a unique project. This island consists of leaf-shaped islands (which together form a palm tree) with luxury hotels and apartments. The most famous building on the island is Atlantis the Palm. At this ultra-luxury hotel you will find the well-known AquaVenture Waterpark.
Dubai Marina is the place where you can eat well in the evening or dance in one of the clubs. You will also find shisa tents here. Are you going to hookah? From here you can walk straight to The Walk (also called JBR), a busy street with many expensive cars. Behind it you will find a long boulevard (better known as The Beach ) with restaurants, cafes, public toilets and a mega-long running path.
Historic Dubai can be found on two sides of the Dubai Creek. On one side you will find Al Fahidi , which is also known as Bastakiya. This part of the city dates back to the early 20th century and is home to the city's oldest cultural heritage. If you sail with an abra (traditional Arab boat) to the other side, you will arrive in Deira . Here you will find the famous gold and spice souk.
Business Bay is the financial district of Dubai. No sights here, but many luxury hotels. With the arrival of the Dubai Canal (a channel that connects this district to the sea), this must change. The plan is to have several restaurants and bars along the canal. Knowing Dubai, it will not be long before this project is completed.
Move around town
Dubai may be a city, but the distances to be covered are not always small. Just to give an example: the distance from Dubai Marina to the souks in Deira is about 10 km. However, this is not an obstacle if you want to discover the city. You can easily move in several ways.
Taxis are the most relaxed means of transport and the least expensive. You pay for a ride on average between € 3 and € 15. The latter applies if you really want to go from one side of the city to the other or get stuck in rush hour. Because it can be busy on the road!
You will not be bothered by traffic jams if you travel by public transport. The most popular is the extensive metro system. Dubai has two metro lines (green and red), with which you can actually go anywhere. The metro lines are no less than 52 km long and have about 30 stations.
In addition to the extensive metro network, the bus network is not insignificant either; Dubai offers numerous bus lines with more than 1,500 stops in total. These will take you to the famous attractions in no time . A warm day? Both the buses and the bus shelters (!) Are equipped with air conditioning. And everything – as in the rest of the city – is spotlessly clean! A tram also runs around Dubai Marina.
Ideal; As a tourist, you can use public transport all day for about € 5. Purchase the red Nol Card for this. These are available at metro, tram and bus stations and are comparable to our OV chip card.
Also nice: with the hop on hop off bus you can easily move around the city and get off at the various highlights that Dubai offers. You can purchase a 24-, 48- or 72-hour ticket and make unlimited use of the buses during this period. You can learn more about the city via the free audio information.
The most famous sights of Dubai
Don't you have plenty of time to discover Dubai? In any case, make sure you don't miss the sights below. You have not visited Dubai if you have not been here!
Dubai is a world of contrasts! Although the metropolis is particularly known for the towering skyscrapers, it also has a historical part. In Al Fahidi and Deira you dive into the local culture. You can take a trip here with a traditional Arab boat (abra) or, for example, visit the Dubai Museum. You can easily get lost in the narrow streets of Al Fahidi. Be surprised here!
The tallest building in Dubai and the world is the 828 meter high Burj Khalifa . It is the landmark in the city; you can see it from practically anywhere. Better even than the building itself is the view from the 124 e or 148 e floor of the tower. Book your tickets in advance, it is a popular attraction!
At the foot of the Burj Khalifa you will find Dubai Mall . This largest (yes, they love this word) shopping center in the world houses 1,200 shops, 14,000 parking spaces, a large cinema complex, 150 restaurants, an indoor amusement park and the largest aquarium in the world.
You have several options for a lively evening. The most popular is a visit to Downtown Dubai, where a giant fountain show takes place at the foot of the Burj Khalifa and the Dubai Mall, also called the Dancing Fountains. Surely you are not surprised when we say that this is the largest fountain in the world? It is also the most expensive fountain show in the world.
For an evening of fine dining, dancing in one of the clubs or smoking a hookah, head to the Dubai Marina or The Walk. The promenade along the beach is always lively and you can spot the most luxurious cars. Ferraris you see here more often than Volkswagens!
Not an attraction, but a must do ; go on a jeep safari in the desert. In the Dubai Desert Conservation Reserve, a protected nature reserve of approximately 225 square kilometers, you can take a 4 × 4 for a rough trip (bring Primatour). This is interspersed with, for example, a falconer show and dinner in a Bedouin camp. Arabian Adventures is one of the companies offering these tours.
A word of Arabic
You can work well with English and even French in Dubai. However, it is more fun to address the locals in their own language. Just a small Arabic course:
Hello – Marhaba
How are you? – Kaeef halak?
Good morning – Sabah el khair
Good evening – Massa el khair
Good day – Ma'a as-salama
Thank you – Shukran
Yes – Na'am
No – La
My name is… – Ismii…
Where's … – Ayna
Not a problem – Mafi mushkil
Help! – Mosaada
Practical tips for Dubai dummies
We can give you endless practical tips about Dubai. Simply because the United Arab Emirates is completely different from European countries. We have listed the most important tips for you. This way you will not be faced with surprises!
You need a visa for Dubai. You do not have to purchase this in advance; you will receive a (free) stamp in your passport as soon as you arrive. Keep in mind that your passport must be valid for at least six months after your return.
Wi-Fi is available for free in many public places. Think for example of the Dubai Mall or the Burj Khalifa. Smart trick; this way you immediately share enviable photos and advertise Dubai.
In Dubai you pay with the dirham. Depending on the exchange rate, a dirham is worth € 0.25 to € 0.30. ATMs can be used for ATMs (make sure you activate your debit card for use outside Europe) and credit cards are accepted in many places.
In Dubai they have three-pin sockets (also called English sockets). Bring a world plug so you can just charge your mobile phone and camera.
Dubai is an Islamic country and as a result people deal with alcohol differently on the spot than we are used to. The minimum age is 21 years and alcohol consumption on the street is strictly prohibited. Drunk driving and public drunkenness carry high penalties. Hotels, restaurants and clubs are in many cases provided with an alcohol license. So you don't have to be dry during your vacation.
They don't do wintertime in Dubai; this means that it is two hours later in the summer than in the Netherlands and three hours later in the winter.
Now that you know the key ins and outs , it's time to discover Dubai for yourself and become an expert. Take a quick look at our extensive range & book!